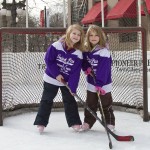 A low-cost hockey program for St. Paul kids age 5–12
Good, old-fashioned outdoor hockey!
A fun opportunity for kids to play hockey
and learn the game
We emphasize playing and having fun while learning and improving skills. We welcome kids who are new to the game, kids who are already play other winter sports like basketball and bandy, and kids who've played some hockey but aren't ready for the 5-days-a-week commitment.
Who should play?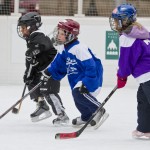 Boys and girls under 13 this December who are interested in learning and playing hockey.
This is a chance to play and learn the game without the expense and commitment at an early age, but it can still be a path to the traditional youth hockey programs for the kids who improve and love to play.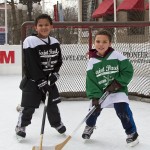 We skate at North Dale Rec Center
Starting December 9
Mondays, Wednesdays, and Saturdays
Mondays, Thursdays, and Saturdays in January and February
About the program
30+ years ago parents let kids walk across town and spend hours at the rink. Parents don't send their kids off like that today. We, as coaches, want to be there to create that environment again.
It is a chance for kids to play pickup games, but also to have coaches around to teach skills, safety, and keep order.
Or watch this quick video and see us playing