2011–12 Forms and Parents Guide
Ready to play some hockey this winter? Here's what you need to do:
Kids
Get some gear. You'll need skates and a hockey stick; a helmet with a face mask; and a pair of shin pads. Any other gear is optional. Play It Again Sports is the best place to find these things cheap, and we've found the Woodbury location to have the best selection of skates. If you're going to be skating for the first time, look for skates with blades that are square to the ice in the back rather than rounded.
Join us at North Dale Rec Center.
Experienced skaters will skate Monday nights from 6:30 to 7:45 pm starting Dec. 12, 2011.
Beginners will skate Wednesday nights from 6:30 to 7:45 pm starting Dec. 14, 2011.
All skaters are welcome on Saturday mornings to play hockey from 10:15 to 11:30 am starting Dec. 17, 2011.
Parents
Gets some skates and a stick.
Each parent wishing to skate and play hockey with the kids must fill out this form completely and sign it. PDF
Join us at North Dale (see times and dates above). On the weeknights we mix skating and hockey skills and parents are welcome to help and play with the skaters. Then join us on Saturdays to play. We split into teams and play hockey.
What else?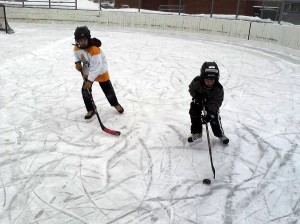 Take a look at the 2011–12 Parents Guide. PDF
Can't make it the first week or two? No problem. Join us anytime throughout the season.
Can't find gear? We are trying to arrange a program to allow you to borrow gear for the season from Ramsey County, but it's not looking good at this hour. Stay tuned to this website or  Saint Paul Hockey Club on Facebook  for updates.
Spread the word! Please pass along the link to this page to anyone you know who has a boy or girl age 5 to 11 in St. Paul who might like to play hockey.
Thanks, and I hope to see you at the rink,
Coach Terry